DREAM center

Sept 2014
Metrology solutions
« Join the DREAM center is now positioning on the markets of tomorrow. »For Olivier Le Strat , Founding President of Breton society Ijinus (Mellac, 29), DREAM IS indeed "A unique opportunity to Exchange and form partnerships with companies and laboratories As many of the markets of measurement and instrumentation environments . » And in addition , the market research on environmental metrology, led by the pole, provides " crucial information on market trends , changing from continuous measurement . "
  Ijinus designs and sells metrology solutions and physical measurement, autonomous and wireless . Its sensors are used by the actors of agro-industries and management of the supply chain ( "supply chain" ) to " measure and control the quantities and temperatures of vertical stocks (silos , vats and tanks) of raw materials, trace and record temperatures in refrigerated transport, tele- handle liquid or solid stocks , monitor theft, leakage and fuel evaporation , etc. »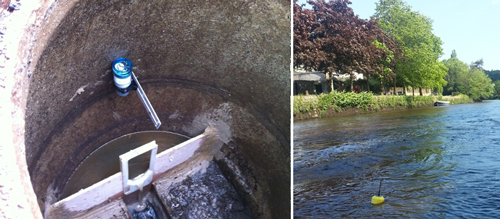 Height monitoring sensor and flow in a sewer system in Perpignan . 2500 points of such measures are currently in place in France. And 3500 in the world –  Buoy continuously measuring the turbidity of water ( river Laïta , Quimper, 29)
The company knows a remarkable and promising business growth in the environmental sector ( 60% of its turnover) . Suez Environnement and Veolia groups including using its sensors to " perform measurements heights of wastewater , stormwater and drinking , to detect abnormalities in water networks, to make permanent diagnosis sanitation, but also for remote management of containers, garbage and waste. »
The international project Ubiflood , combining French laboratories ( CNRS, University of Sophia Antipolis, Polytech Nice Sophia ) and Asian ( University of Singapore, University of Bombay and the Asian Istitute of Technology [Thailand ] ) , also chose the Ijinus technology for its warning and flood prevention in Asia. "A great showcase for the M0111 water level sensor ( wireless) and the owner Wiji® software, which are used here to prevent overflows and capitalize data. »
The catalog of the company Ijinus reference 284 Products: sensors ( level, pressure, overflow , temperature, etc.) , plants (autonomous and modular ) , recorders (RFID or GSM) and software (for sensor families). " The first two thirds of the sensors can perform physical measurements ( level, pressure, temperature, etc.) , and the final third of the physico- chemical measurements (turbidity , pH, conductivity , etc.). " The company also offers the services such as online service IjiTrack® remote management levels , temperatures, energy and alarm thresholds.
The joint stock company Ijinus ( "innovation" in Breton) was created in 2003. Young Innovative Company , it is notably winner in 2006 of the "European Contest of Innovative Enterprise" ( C2EI ) and in 2011 , the competition " Innov ' Eco" in the " Intelligent Sensor Network . "Among its 18 employees, it has 9 engineers and technicians, and 9 commercial and administrative . "The company does not manufacture its solutions, but all of its subcontractors are located within 40 kilometers of the seat. "
In 2012, its turnover amounted to € 1.5 million, of which 20% from exports . Its main international markets are Mexico, China, Australia , Morocco and Tunisia. Its products are marketed through distributors such as Mangra companies (Spain, Mexico) , OTC (Tunisia) and John Miller (Canada) . Today, SMEs " especially targets the US and Canadian markets . " She created for this, in 2013, a US subsidiary : Ijinus USA ( Milwaukee, Wisconsin) .
The average growth rate of the company Ijinus around 30 % per year. And its main growth drivers are technological innovation, the establishment of industry partnerships, and the conquest of new territories. " However, DREAM , with its working group and its market research dedicated to metrology , issues information on technological developments, offer opportunities to get in relation to other value chain actors of the measure, and gives visibility into emerging markets. The pole turns out this tremendous support to the company's strategy . »